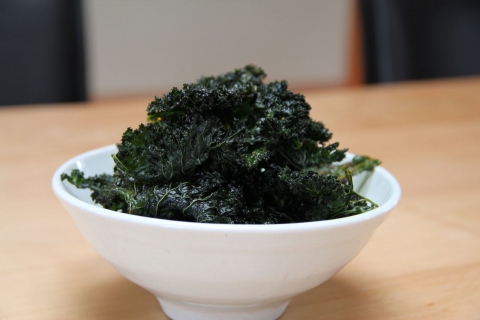 In the world of dehydrators, there might be nothing as "modern" as dehydrated kale chips. Before 2010, the idea was basically unheard of, but now you run into kale chip recipes everywhere online. Part of this popularity we think comes from more interest in healthy food generally. Kale, high in beta carotene, vitamin C, vitamin K, and rich in calcium, definitely qualifies as a healthy food.  But dehydrators add another key feature that we think makes kale chips even more popular – the ability to run at the low temperatures needed to make "raw" food. 
We recently decided to try some different kale chips recipes to see what the big fuss is all about. Can kale, a relative to cabbage and broccoli, actually be made into a snack that people (and kids?) will eat voluntarily? We're happy to report that you can make a pretty good snack out of kale. Our kids wouldn't go out of their way to eat more kale chips, but they did give some of these recipes a solid "not terrible".
This is a tasty kale chips recipe that makes good use of tomatoes you have previously dehydrated. The resulting kale chips have a nice tomato tang, with the satisfying nutty crunch of cashews. One of our favorite kale chips recipes.
This one of the more flavorful kale chip recipes we've tried. Our kids even "sort of" like it. The miso and nutritional yeast give the kale a special tang that will remind you of parmesan cheese. Make sure you take care that the kale is coated evenly – it's easy to end up with too much seasoning.
An interesting kale chips recipe that is sweet instead of salty. The mild taste of cinnamon and sugar remind us of something that might be served around the holidays.  This recipe contains no oil, so the kale chips become very crisp and have a paler color.
A slightly more advanced kale chip recipe with a nutty crunch. Good flavor with the added nutritional benefit of cashews, red pepper, and nutritional yeast.
A basic kale chips recipe that will satisfy your craving for a salty, healthy snack. Quick and easy to make.
This is a good basic kale chips recipe. The taste is subtle but satisfying.