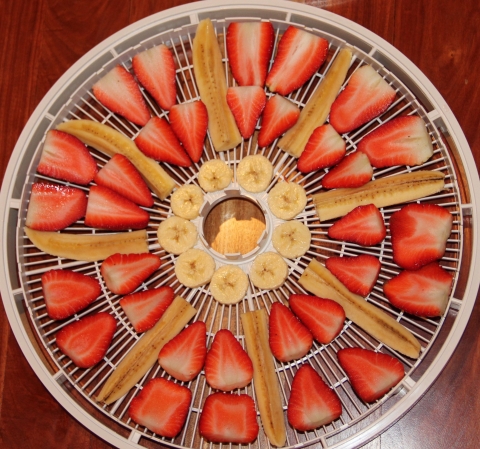 Food dehydrators range in cost from about $50 for basic machines to well over $300 for higher end consumer models. It's a lot of money for a kitchen appliance that is not as central to food preparation as, say, a blender. However, a food dehydrator can give you some new and tasty options for maintaining a healthy diet. It can also provide you with a new way to preserve the good food you have today for later. In this article, we take a look at some reasons that a food dehydrator might make sense for you.
A dehydrator reinforces healthy food choices
You're not going to dehydrate a cheeseburger, right? No. When you buy a dehydrator, you're making a commitment to healthy food. You're going to be drying things like peaches, cherries, apples, bananas, pineapples, and mangos. Maybe even peppers, tomatoes, or kale. These are all foods that most people don't get enough of already. A dehydrator helps keep quality, healthy food at the center of your diet. Not only that, but a dehydrator helps extend the healthy food you have today into your future, since it allows you to preserve good food now for later. Make sure you check out our list of recipes.
A dehydrator gives you new raw food options
If you're on raw food diet, or just trying to eat more raw foods, a dehydrator gives you a new way to prepare raw food. A good dehydrator has an adjustable thermostat and can maintain an even temperature at or under 115 F. A lot of dehydrator recipes and instructions will call for drying fruits and vegetables in the 130-140 F range, but reducing the temperature works fine if you just extend the drying time. A dehydrator can also be used to warm up soups and sauces at low temperatures, and to make raw crackers, breads, granolas, and cookies.
A dehydrator allows you to buy quality at a lower price
See some fruits or vegetables on sale that you don't need just now? A dehydrator allows you to buy extra food now and dry it for later. Fruits like bananas, mangos, strawberries, and cherries often go on sale when they become fully ripe. A dehydrator gives you a way to buy more than you need right now on sale, and dry it for later. For example, you might buy a case of ripe peaches, then make a peach pie using some of the peaches, and dry the rest into delicious peach wedges.
You can make your own lightweight camping food
If you do any backpacking, or any camping where low weight is important, a dehydrator is a way to make delicious and very light food. When foods are dehydrated, most of the water is removed, which also removes most of the weight. Even something bulky and heavy, like a watermelon, can be dried into "chips" that can be tossed into a sandwich bag. What's more, a dehydrator gives a way to make more complicated foods, like spaghetti, portable. You can make excellent spaghetti sauce or stew (with or without meat) that will taste just as good on the trail as it did at home. If you're ambitious and have the right fire or stove, you can make a great pizza or calzone with a dehydrated tomato sauce and dried vegetables.
A fun project with the kids
Preparing food for drying is a fun project for the kids. Typically, the food you are drying will need to be washed, cut into slices, and arranged nicely on trays. Kids love washing and arranging, and they especially like projects where there is a reward at the end. Many dried fruits taste almost like taffy - a great replacement for candy or junk food. Almost all fruit leather will be popular with your kids, but also try bananas, strawberries, kiwis, mangos, pineapples, and even watermelon or cantaloupe. When your kids ask for dried fruit as if it were candy, you'll know it was worth it.
You can have a bigger garden
Love to garden but have a hard time managing all the food that your garden produces? A dehydrator gives you a great way to preserve certain foods for later. With a dehydrator, you can get good results with carrots, corn, parsley, tomatoes, peppers, peas, garlic, and even horseradish.  Just rehydrate before using in soups, stews, or to cook directly. You can also make vegetable flakes and powders to use in soups, sauces, salads, and seasonings.
You can dry your own herbs
A dehydrator is the most efficient and flavor-preserving way to dry herbs that look and taste great. With an even, controlled temperature of 90-105 F, you can typically dry herbs in 1 to 3 hours.  Dry your own basil, mustard, mint, ginger, dill, thyme, and rosemary.
You can replace many expensive snacks with your own dried food
A dehydrator gives you a great way to replace many expensive snacks with healthier food you make yourself. A large number of widely available fruit makes a great on-the-go-snack for work, sport, or play. Try dehydrating apricots, peaches, apples, pineapple, bananas, blueberries, strawberries, kiwi, plums, pears, and grapes. You can also make excellent more complete snacks by combining fruit leathers with other healthy ingredients.  Instead of buying a case of power bars on sale for $20.00, make your own fruit leather sprinkled and rolled with nuts, seeds, or granola.
You can make your own beef jerky
For many people, jerky is the main reason they own a dehydrator. Jerky is a lean and delicious source of protein. Great as a base for a light lunch or to take with you when hiking, working outside, or even studying in the library. Store bought jerky is expensive and doesn't taste as good as the jerky you can make yourself. A dehydrator allows you make excellent beef, fish, and even turkey jerky. There are a large number of pre-mixed jerky spices available, and you can make your own to taste.
Dehydrators are an excellent way to preserve food
The even heat of a food dehydrator creates food that is nutritionally superior to canned food. When stored properly, dried foods remain healthy and nutritious for weeks or months at room temperature and generally over a year in a refrigerator. And no chemicals or preservatives are required.